KITCHEN: Penne with Pesto Chicken & Mushroom
I had finally bought some penne when we went to Jusco. Since our neighbourhood stores of little town carry limited types of pasta, we have been sticking to spaghetti since I haven't figured out how to make mac and cheese without buying Kraft's that only need to be popped into microwave oven.
I used the same old recipe but substituted beef with chicken this time. (Out of beef!) Chicken and pesto are always perfect whether with pasta or on pizza. Writing this post just reminded me I need to buy high-protein flour on the next trip to big supermarket if I want to eat pizza. I'm so addicted to Italian cuisine all because of Hetalia.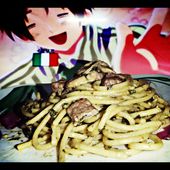 Pasta fever started by Hetalia has continued unabated. Pesto has been our favorite pasta sauce since we found out how to make from scratch a few years ago. We also love pesto because basil is free ...
Click on above link to learn how to make pesto sauce at home!